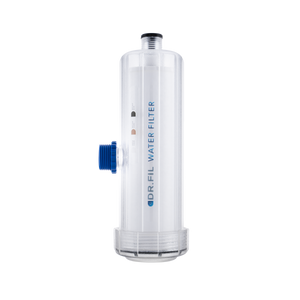 1 x Dr.Fil Water Filter Main Body
1 x PP or Activated Carbon Filter Cartridges

DR.FIL™ Water Filter provides you with a wide range of solutions for fresh, clean water. Not only do you get great-tasting water for drinking and cooking, you also get clear, odor free water for washing and utility use. Removes rust and harmful substances in water. Sand, sediment, and debris can come from the water lines that supply your water from the city. In addition, showering in chlorinated water can produce harmful effects for your skin and hair. 

It's very simple to install the DR.FIL™ Water Filter wherever you want to, with options such as for shower line, basin line, washing machine, and more. Filter cartridges are easily replaced periodically, typically on an annual or semi-annual basis. Just screw open the cap and change only the inner filter after 1 to 3 months of usage, depending on your incoming water quality.